Turkey's terrorism attack timeline
Comments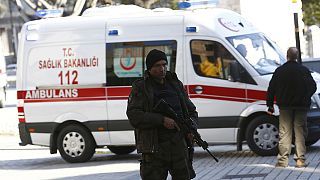 Turkey is involved in regional and national conflicts.
It has been the target of numerous attacks from Kurdish separatists, such as the Kurdistan Workers' Party (PKK) and the Kurdistan Freedom Hawks (TAK), the Marxist Revolutionary People's Liberation Party Front (DHKP-C) and jihadist groups, including more recently so-called Islamic State (ISIL).
Here are some of the most significant attacks in Turkey:
January 1, 2017 – A gunman storms the Reina nightclub in Istanbul, killing at least 39 people, in an attack later claimed by ISIL.
December 19, 2016 – Russia's ambassador to Turkey, Andrei Karlov, dies after being shot in Ankara. His killer, Mevlut Mert Altintas, 22, is later killed by security forces.
December 17, 2016 – A car bomb kills at least 13 after a bus carrying off-duty soldiers and civilians is targeted in Kayseri. Turkey's president Recep Tayyip Erdogan blames the PKK Kurdistan Workers Party for the attack.
December 10, 2016 – Two deadly bomb attacks strike outside Besiktas football team's stadium in Istanbul. The death toll is initially 44, later rising to 45, according to local reports.
August 20, 2016 – More than 50 people die after a bomb rips through a Kurdish wedding party in Gaziantep, south-eastern Turkey.
July 15, 2016 – More than 250 people died after a faction of the Turkish army failed in a coup attempt.
June 28, 2016 – Three suspected attackers open fire on people in the departures hall of Ataturk International Airport before blowing themselves up in the arrivals hall. The death toll is put at 45 people.
June 23, 2016 – One civilian dies and two soldiers are injured after a car bomb at a police outpost in the district of Omerli, in south-eastern Turkey.
June 7, 2016 – A car bomb attack in Istanbul on a police bus kills seven officers and four civilians. A car packed with explosives is detonated by remote control as the vehicle passed by in the central district of Vezneciler.
March 31, 2016 – Seven police officers die after a car bomb targeted a minibus in Diyarbakir, south-eastern Turkey.
March 21, 2016 – Three Turkish soldiers die in a bomb attack on their military vehicle in the south-eastern town of Nusaybin, near the Syrian border, reported Reuters.
March 19, 2016 – Four people die in a suicide bomb attack in Istanbul.
March 18, 2016 – One police officer dies in a security operation against the Kurdistan Workers' Party.
March 13, 2016 – A car bomb causes carnage in the centre of the Turkish capital Ankara. Authorities say 37 people died in the attack, which happened just before 6.45 pm local time at Kizilay Square near the central Guven Park.
The Kurdish militant group TAK later claim responsibility for the attack.
February 18, 2016 – Six Turkish security force members are killed and a soldier seriously wounded when an explosion rocks a military convoy near Diyarbakir, in the predominantly Kurdish south east.
February 17, 2016 – A vehicle full of explosives is detonated as military buses pass by in Ankara. At least 28 are killed, 27 of whom are soldiers.
January 13. 2016 – A car bomb followed by shootout in front of a police headquarters in Diyarbakir province in south-east Turkey kills six people. The Turkish government claims Kurdish PKK fighters are behind the attack.
January 12, 2016 – Ten people, at least eight of them German tourists, are killed in a suicide bomb attack in Istanbul.
October 10, 2015 – Two suicide bombers detonate their vests during a
rally of pro-Kurdish and left-wing activists in Ankara. At least 102 are killed and 248 injured in the deadliest attack of its kind in modern Turkish history.
More on euronews here and here
Reuters'tan tumayberkin</a> &#39;in fotosundaki İzzettin-Hatice Çevik çiftinin 20 yaşındaki kızları Başak Sidar da öldü <a href="http://t.co/DtUVoj3aqR">pic.twitter.com/DtUVoj3aqR</a></p>&mdash; gökmen karadağ (haberaktif) 11 Octobre 2015
July, 20, 2015 – 33 people are killed and 104 injured when a bomb exploded in Suruç during a meeting of left-wing activists. The organisations were announcing their trip to go and help rebuild the Syrian border town of Kobani, besieged by Islamic State fighters. ISIL later claimed responsibility for the attacks.
More on euronews and here
January 6, 2015 – A pregnant female suicide bomber blows herself up in the tourist area of Sultanahmet near the Blue Mosque and Hagia Sophia. She was later identified as Diana Ramazova, a Chechen-Russian citizen from Dagestan. Her bomb killed one police officer and injured another.
More on euronews
May 11, 2013 – Two car bombs explode in the city of Reyhanlı, 5 km fron the Syrian border, killing at least 51 and injuring 140. No one claims responsibility for the attacks and suspects range from the Syrian government and jihadi groups to a Turkish Marxist group.
February 11, 2013 – A Syrian-registered minivan explodes on the Turkish side of the Bal al-Hawa border crossing. The car bomb kills 13 and wounds 28. The Turkish government labels the event "a terrorist act".
August 20, 2012 – Bombs explode in Gaziantiep during the celebration for the end of the month of Ramadan. Ten people are killed, more 64 wounded. There were no claims of responsibility.
September 20, 2011 – A car bomb explodes in a street in the capital, Ankara, near a neighbourhood housing government buildings, killing four people and wounding 15. The Kurdistan Freedom Hawks claim responsibility
October 31, 2010 – A suicide bomb blast on Taksim Square in Istanbul injures 32 people, including 15 police officers.
July 27, 2008 – At least 17 people are killed and over 150 wounded in two explosions in the Gungoren shopping district of Istanbul, which the city's governor describes as "terror attacks".
July 9, 2008 – Three police officers and three gunmen are killed in an attack on the entrance of the US consulate in Istanbul. The US ambassador to Turkey condemns it as "an obvious act of terrorism" aimed at his country.
September 12, 2006 – A bomb blast kills 10 people, eight of them children, near a park in Diyarbakir, the largest city of Turkey's restive, mainly Kurdish southeast region.
June 25, 2006 – A blast tears through a tourist area about 100 km east of the southern resort of Antalya, killing four and injuring 28. The Kurdistan Freedom Hawks (TAK), a group linked to the PKK, claims responsibility.