Peru holds tight presidential run-off vote
Comments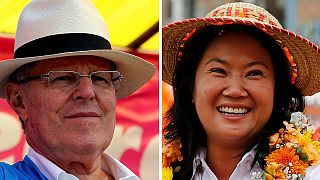 Presidential run-off in Peru
41-year old Keiko Fujimori pitted against 77-year-old Pablo Kuczynski
Both pro-free market but differ on policy details

What is happening?
There is a presidential run-off election in Peru on Sunday.
23 million Peruvians will go to the polls to choose a replacement for outgoing President Ollanta Humala.
Who are the candidates?
Keiko Fujimori y Pedro Pablo Kuczynski: una contienda reñida en Perú https://t.co/jL3AncHNJC#PerúVoto2016pic.twitter.com/4X0FzpbOEO

—

CNN

en Español (@CNNEE) June 4, 2016
Keiko Fujimori is hoping to steer the right-wing populist movement she inherited from her father back into power.
However, polls suggest she could be on track for a narrow loss.
Formerly neck-and-neck with her rival, Fujimori's lead over Pablo Kuczynski has reportedly melted away in recent days.
No matter who wins in Peru this weekend, it looks like the country will stick with free-market tilt https://t.co/LJ6XJ4QvTa via WSJ</a></p>&mdash; David Luhnow (davidluhnow) June 3, 2016
Both candidates are fiscal conservatives who plan to maintain the free-market model for the resource-rich Andean economy.
However, after that, their styles and approach vary wildly:
Fujimori
Kuczynski
77
Elite background, technocratic style
Less popular in poorer areas
Keiko Fujimori
Fujimori has spent the last five years trying to broaden her appeal beyond those loyal to her father.
Alberto Fujimori is serving a 25-year sentence for graft and human rights abuses.
However, some think scandals in the Fujimori camp appear to be having an impact.
Pablo Kuczynski
Kuczynski has portrayed himself as honest and experienced enough to keep his promise to jump-start economic growth in Peru.
If he wins, he will have to contend with a solid majority of Fujimori's party in Congress and a leftist alliance that has vowed not to align with either winning candidate.
What they are saying
"She's ready and deserves the chance to clear her father's name," – Santiago Celez, 70-year-old taxi driver.
"When I opened the treasury, it was empty!" – Kuczynski recalls becoming the first finance minister after Alberto Fujimori fled Peru with an estimated 6 bn dollars in public funds.