Creating conditions for Middle East peace talks is 'duty' of world powers
Comments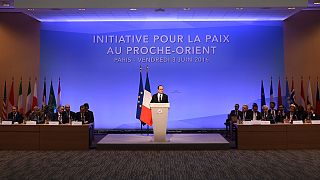 The French foreign minister says major world powers intend present a set of incentives and guarantees to encourage Israelis and Palestinians to revive stalled peace talks.
Representatives from Russia, the EU, UN and Arab League were among the 25 delegations in Paris for a Middle East peace conference.
"I promised that the work will begin before the end of the month," French foreign minister Jean-Marc Ayrault told reporters. "All ideas and any wish to help is welcome and our objective is to collate everyone's efforts into a global package of incentives and guarantees, to present it to the Israelis and to the Palestinians at an international conference to take place before the end of the year."
The EU's foreign policy chief Federica Mogherini said creating conditions for peace talks was the duty of world powers.
"We still refer to the Middle East peace process but the reality of fact is that in this moment there is no peace process at all so the role of the international community, the duty of the international community, and of the European Union first and foremost is to recreate conditions for a peace process to happen and to restart," said Mogherini.
Israel and the Palestinians did not take part in Friday's meeting.
A final communiqué warned that the existing status quo was not sustainable.
Previous attempts to coax the two sides into a deal have been fruitless.