Israelis and Palestinians skip Paris peace talks
Comments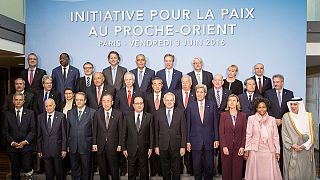 Paris hosts Middle East peace conference
Israelis and Palestinians not taking part
Hopes of a revival by the end of the year


Foreign ministers from 25 countries have arrived in Paris for a conference on peace in the Middle East – but without the Israelis and Palestinians.
Representatives from the US, Russia, the EU, UN and Arab League are among those in the French capital.
We all agree that a two-state solution is the only viable option for a sustainable peace, says UNSG in Paris. pic.twitter.com/w0tVXuUg0Z

— UN Geneva (@UNGeneva) June 3, 2016
Paris has lobbied countries to commit to a conference that would set out a framework to get Israelis and Palestinians back around the table for negotiations.
The aim is to relaunch talks by the end of the year.
Why are Israel and the Palestinians not taking part?
The most recent round of peace talks collapsed in April 2014.
Israel has rejected this latest meeting and is calling instead for direct negotiations.
The Palestinian ambassador in Paris has said international intervention is necessary to save the "two-state" solution.
What is France saying?
"Violence is growing & hope fading – that's why we want to try and revive the peace process" https://t.co/UTJvH4tfy1pic.twitter.com/3c4bydYIKZ

— Middle East Eye (@MiddleEastEye) June 3, 2016
"This is about a collective affirmation that peace will be negotiated by two states – Israel and the Palestinian Territories, living in security side-by-side."
"This is a given but must be re-emphasised at every opportunity, solemnly and without ambiguity," French President Francois Hollande told the assembled delegates.
"The changes that have swept the Middle East mean that past efforts for peace between Israelis and Palestinians are no longer as relevant," Hollande continued.
"The threats and priorities have changed. The changes make it even more urgent to find a solution to the conflict, and this regional upheaval creates new obligations for peace."
What they are saying
"The discussion on the conditions for peace between Israelis and Palestinians must take into account the entire region," -*Francois Hollande* told the media before the start of the conference.