India rules second Italian marine accused of fishermen murder can go home
Comments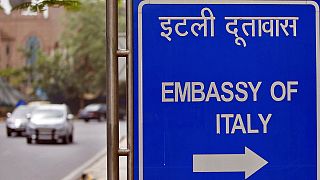 An Italian marine, one of two being investigated by India over the killing of two fishermen, is being allowed to go home while international arbitration continues.
Salvatore Girone has been staying at the Italian embassy in New Delhi.
He has been told by India's Supreme Court that he can return to Italy while an international tribunal decides which country has jurisdiction.
"The condition number one is that he will surrender his passport when he reaches Italy. The number two condition is that he will report once every month to the police station there and that report will also be sent to the Indian embassy," said Girone's lawyer Suhail Dutt.
Should the international court decide the question of jurisdiction in India's favour, Girone will have to return within a month.
The other Italian accused over the killings, Massimiliano Latorre, went back to Italy in 2014 after suffering a stroke.
They were arrested over the deaths of two Kerala fishermen in 2012 and claimed they mistook the fishermen for pirates.
Italy has argued the marines should be immune as they were on a UN anti-piracy mission and because the tanker they were guarding was in international waters.
India has strongly opposed that stand.
The dispute has strained relations between India, and Italy and its EU partners.
Last year both countries agreed to move their dispute to the Permanent Court of Arbitration in The Hague.