Kurdish-led militias launch offensive against ISIL-held Raqqa
Comments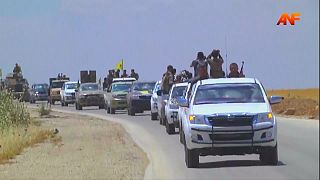 A US-backed alliance of Kurdish-Arab militias has started to clear ISIL fighters from the area north of the Raqqa which is the extremists de facto capital in Syria.
Its in preparation for a future full assault on the city.
The US military will conduct air strikes in support of the Syrian Democratic Forces (SDF) alliance whose main component is the powerful Kurdish YPG militia.
US-backed Syrian rebel alliance begins offensive to seize territory north of Raqqa, spokesman says – Reuters https://t.co/L7ATlCwQbn

— Breaking News (@BreakingNews) May 24, 2016
ISIL is also being targeted in a separate campaign by the Syrian military and its allies including Russia. But the Sunni extremists recently hit back at Assad held coastal towns.
And new satellite imagery appears to reveal extensive damage to an airbase known as T4 in central Syria which is used by Russian forces.
Sat images verify that T4 air base was severely damaged by an Islamic State artillery attack https://t.co/M3MktlbMhSpic.twitter.com/yMHJ91Dtd7

— Stratfor (@Stratfor) May 24, 2016
Four helicopters and 20 lorries were destroyed in a series of fires, the images from intelligence company Stratfor suggest. However the Russian military has denied reports that it has lost any aircraft at the base as a result of an ISIL attack.