Austria election: presidential run-off too tight to call
Comments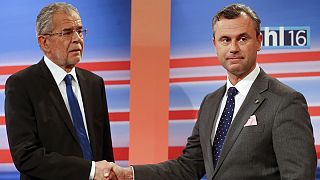 Note: an updated version of this story is available here.
Partial results in Austria's presidential run-off show the result is too tight to call.
The election, between the far-right Freedom Party's Norbert Hofer and independent Alexander Van der Bellen, had both candidates tied on around fifty percent of the vote, though some polls gave Hofer the edge.
A two percent margin for error means the ballot will now not be known until Monday, when a large count of postal votes is due to finish.
Speaking to Austria's national TV station ORF, Freedom Party candidate Norbert Hofer said: "Nobody really wished for this. We wanted to sleep well tonight, but now we have to wait until tomorrow. It's so close. I have been a politican for a long-time but I have never had an evening like this. All I can say is: No matter who wins today we will need to unite Austria again."
Standing alongside Hofer, Alexander Van der Bellen said:
"In the past 14 days there has been a move among the electorate. Musicians, actors, other people all across different professions, across different classes publically showed their support for me. This was extremely helpful and I'm grateful for it.''
The two men offer a stark choice for voters, having earlier rejected Austria's two main centrist parties in April's first round.
Immigration has dominated the campaign. Last year asylum-seeker numbers soared with around 90,000 people claiming refuge in Austria.
The presidency is mainly ceremonial, but EU Commission chief Jean-Claude Juncker and his counterpart in the European Parliament Martin Schulz, have both expressed concern over Hofer victory.