Austrian elections: Van der Bellen, 'the gentle candidate'
Comments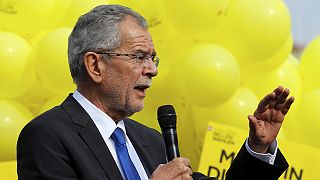 For many Austrians, he was their last hope of preventing the country from lurching to the extreme right.
Campaigning on a pro-EU platform, and backed by the Green party, Alexander Van der Bellen described Sunday's presidential poll as a choice between "a co-operative and an authoritarian style"
The 72-year-old was runner up to his far-right rival, Norbert Hofer, in the election's first round in April.
"For me it's the same to finish first or second in the first election round. What I want is to get in to the second round," he said at the time.
He did, but Van der Bellen was still way behind Hofer, who had taken more than 35 percent of the first round ballot.
But eventually his political band wagon got rolling, successfully uniting those voters who were determined to stop Hofer getting in.
An economics professor by profession, Van der Bellen has voiced his opposition to the Transatlantic Trade and Investment Partnership deal, or TTIP, currently being negotiated between the EU and the US.
He entered politics in his 50s, first with Austria's Social Democratic Party and then the Greens. Between 1997 and 2008 he was the Green Federal Party spokesperson.
The son of a Russian father and Estonian mother, both who fled to Austria as refugees, Van der Bellen has been critical of Vienna's current asylum and migrant policy.