Celebrations in Austria but it is still not clear who will be the next president
Comments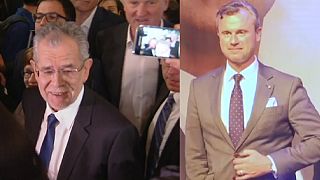 Note: an updated version of this story is available here.
There have been celebrations in Vienna as supporters of both candidates in Austria's presidential run-off claimed positives out of Sunday's vote.
With the results appearing an even split, independent Alexander Van der Bellen at least clawed back a 14-point deficit suffered in the first round.
But the reality is the far-right Freedom Party under "Norbert Hofe"http://www.euronews.com/2016/05/20/norbert-hofer-the-friendly-face-of-austria-s-far-right-freedom-party/ has out performed itself, emerging as a political force to be reckoned with.
Far-Right close to victory in Austria https://t.co/A1L8qzCFizpic.twitter.com/0LLEV4IKMi

— End of Europe (@End_of_Europe) May 22, 2016
And if Hofer does win the presidency it will be the springboard for Freedom Party success in the next parliamentary elections, scheduled for 2018.
"We have achieved already a lot. We have made great steps, bigger than anyone would have believed. And even if Van der Bellen wins the election it will be a huge success for Norbert Hofer," said a Freedom Party supporter.
Reporting fro euronews, Gergely Bártfai, said:
"Supporters of Freedom Party may already be celebrating the victory of their candidate Norbert Hofer in Vienna , but the official final results will only be published Monday evening after the all postal ballots counted."
Postal voting accounts for 750,000 ballots, roughly 12% of Austria's 6.4 million eligible voters,