Norbert Hofer the "friendly face" of Austria's far-right Freedom Party
Comments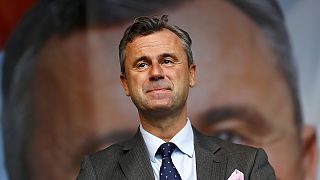 Norbert Hofer is according to some descriptions the "friendly face" of the far-right Freedom Party. The well-dressed, softly spoken, self proclaimed Margaret Thatcher fan has pushed traditional anti-immigration themes with a smile while using more moderate rhetoric than the party leader Heinz-Christian Strache.
What's been described as the 45-year-old's "polished campaign" was based on the slogan, "Unspoilt, honest, good." But at first the ex-deputy parliamentary speaker refused to join the race as he felt he was too young.
The first round result in which Hofer, who trained as an aeronautical engineer gained 35 percent of votes was his party's best result at federal level since 1945.
He was born into a middle-class family the son of a local councillor. In 2003 he had a paragliding accident and was confined to wheelchair. But showing steely resolve he worked his way out of it.
"He always gives 100 percent, as a child he wanted to do everything right," his mother told the Austrian media.
He made a steady rise through the ranks to the leadership of the Freedom Party in the past two decades and entered the lower house in Austria in 2006.
He helped the party to adopt a more moderate course and focus on social welfare and purchasing power to steal support from the traditional parties.
The twice-married father of four has proved to have an easy way with voters and ready with a quip to put down his critics.
"They said that I am a wolf in sheep's clothing. I am not. I do absolutely not have any fur.," he told one rally.
But despite his amiable appearance Hofer is seen as a true-blue member of the far-right.