Canada wildfires: 90% of Fort McMurray intact
Comments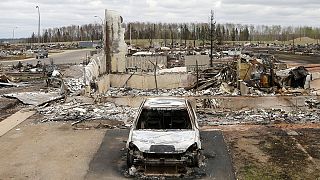 Despite the extensive damage caused by a week of wildfires, officials in Canada say most of Fort McMurray, the town at the heart of the blaze, still remains intact.
Thousands of homes were burnt to the ground, but Alberta's state premier Rachel Notley says up to 90 percent of the town's buildings survived the massive fire, which is slowly being brought under control.
"This city will emerge from this emergency with real structural resiliency with much or most of its critical infrastructure saved. The city was surrounded by an ocean of fire only a few days ago, but Fort McMurray and the surrounding communities have been saved and they will be rebuilt," Notley said.
Meanwhile, an outbreak of the stomach bug gastroenteritis has been reported at centres housing some of the 80,000 people evacuated from the oil sands city.
Those infected with the illness have reportedly been quarantined.
Local authorities say they hope residents will be able to return to Fort McMurray within the next two weeks.