Damage less than feared as Canada wildfire slows down
Comments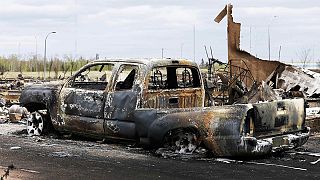 Canadian officials say the wildfire in Alberta is finally slowing down and the damage is much less than feared.
Up to ninety percent of the buildings in Fort McMurray, the town at the heart of the blaze, have survived unscathed.
However, Alberta Premier, Rachel Notley, warned residents it was too soon to return.
"Today this city is not safe without the kind of police and fire escort that we had. There are smoldering hot spots everywhere," she said.
Thousands of people are being sheltered in temporary emergency centres nearby. Notley said she expected to be able to give them a timetable for when they can return within two weeks.
Although the blaze is more under control, it is still large and firefighter believe it could be months before it is completely extinguished.