The plight of Syrian refugees born in Lebanon and who could become stateless
Comments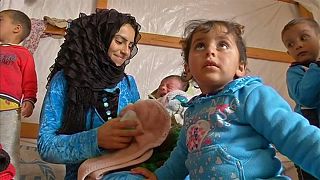 Born stateless, nowhere they can truely call home. Fifty thousand Syrians have been born without papers in Lebanon according to the United Nations.
With more refugees per capita in the world, Lebanon has not yet signed the 1951 Refugee Convention and so has not authorised the UN to set up formal camps for Syrians.
But since 2011, 70,000 were born in Lebanon, most are not registered like Nour who was born seven months ago in the Bekaa Valley.
"A child who is not registered will remain stateless, here and in Syria. If we cannot register her here, it is a problem. If we go to Syria, she is not recognised there, if somebody stops us on the way and asks us about her, we cannot prove she is our child. It is a problem, if we got to Syria she is not recognized there either. This is our only problem," explained Asheqa the mother of Nour.
If Nour does not have any papers then the family are caught in exile and cannot leave. This is what the UN recommends for parents to register their infants, and it is mandatory to do it before the end of their first year.
The first step is to get notification of the child's birth from the hospital or from the mid-wife.
With this, their identity cards and their marriage certificate the parents can then demand a birth certificate stamped and signed by a solicitor at a price of 20 dollars.
Armed with the birth certificate the parents next have to register their child with the Lebanese authorities facing trips to different government offices. Over sixty per cent fail to do that. And children without a birth certificate face separation from their families if they try to cross international borders.
Nothing is easy for the Syrians in Lebanon. They are not allowed to work.Parents who have to go to Beirut to renew their papers face many obstacles. They have to negotiate checkpoints while many who have fled the civil war are afraid to go to the Syrian embassy.
"My new child, they said we have to update our papers so they can register him. They won't register our boy until we renew our papers. My wife and I haven't been paid anything for around a year and we need at least 400 dollars for me and 400 for her. So in all we need about one thousand dollars to register my child," said Ahmed.
They could become a stateless generation, without the right to education, to healthcare and without papers and so are at greater risk of falling into the clutches of human traffickers.
These thousands of potentially stateless children are one way the wars in Syria and Iraq are reshaping the Middle East and its people for good.