Euronews visits frontline village in Syria
Comments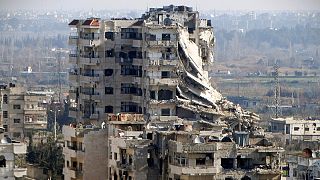 The frontline between territory occupied by Syria's Bashar al Assad and opposition forces has seen some of the most brutal, horrific fighting imaginable.
Civilians have borne much of the burden, trapped in crossfire from often primitive and poorly-targeted weaponry.
Euronews' reporter Denis Loctier has visited the village of Kaukab where village leaders recently renounced armed struggle against the Assad government after rebels lost control of the area.
He was part of a group of journalists invited to the country as guests of the Russian Ministry of Defence.
Denis Loctier said: "Since February's partial ceasefire some areas of the country have seen locals begin to return to their homes. Not long ago this village between Hama and Aleppo was on the frontline. Today, with the mediation of Russian specialists, it is signing an 'act of reconciliation'."
Our reporter talked to Kaukab resident Abdallah Alhder who told him many other villagers had been forced to leave the village four years ago: "It was because of the terrorists. We signed the agreement to return to our land and we'll never allow anybody to come here and commit terrorist acts again."
No death sentence
Around 20 men identified to the media as opposition fighters formally surrendered to the government in front of the invited media. They will still go for trial but will not face a death sentence. It is to encourage other armed opponents of President al Assad to surrender.
Sergey Ivanov, a spokesperson for the Russian Centre for Reconciliation in Syria, said: "These people came to us for help, so we've made efforts to facilitate their return to their homes. We put them in contact with the government, we brought both sides to the negotiating table, so that they would agree to move the frontline farther away from this village."
The war has taken its toll on the village: many of its inhabitants died in the crossfire between government forces and what the regime calls terrorists.
But for those who have come home an end to fighting, however it is achieved is something to celebrate.