Women 'tortured and murdered' in German 'House of Horrors'
Comments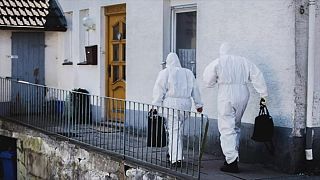 In Germany it's described as the "house of horrors", and what's said to have happened there is harrowing.
A man and a woman in their forties have been arrested, suspected of holding captive and murdering at least two women.
The body of one is thought to have been cut into pieces and burned.
Police raided the house in the western town of Hoexter, on the border of Lower Saxony and North Rhine-Westphalia, after a 41-year-old woman died in hospital last month from torture-related injuries.
The couple had apparently been trying to drive her home when their car broke down.
"The woman suffered from repeated very serious physical abuse, for example being beaten all over her body, being chained to heaters and being restrained. Sometimes the victim had to sleep on the bare floor of cold rooms," chief prosecutor Ralf Meyer told a news conference in the nearby town of Biefeld.
Investigators base their suspicions on what they say is a credible confession from the woman, named as Angelika W., who is being held.
"After Angelika W.'s statement, the preservation of evidence in the house reached a new dimension. We are forced to literally look at every square centimetre of the house and investigate it to see if there is any evidence of other women. We cannot totally exclude that more women were killed there. We just don't know that at the moment," said the head of the police homicide division, Ralf Oestermann.
The victims are thought to have responded to lonely hearts adverts – as originally did the woman who has confessed.
There has been no suggestion that sexual abuse took place, but police believe other women may have survived physical abuse or torture.