Germany's first Syria war crimes trial opens in Frankfurt
Comments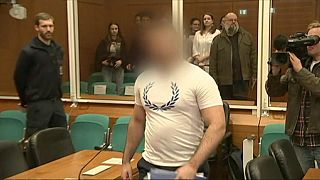 A 21-year-old man has gone on trial in Germany for alleged war crimes in Syria.
The case in Frankfurt is the first of its kind in Germany related to the five-year conflict.
Aria Ladjedvardi, a German of Iranian origin, is said to have posed for photos next to the severed heads of two victims.
Prosecutors believe he and two fellow fighters took the pictures to humiliate those they considered infidels.
The young man was arrested in October last year in the Frankfurt region after police raided his flat.
He travelled to Syria in early 2014. Prosecutors believe he became radicalised amid a growing Salafist scene in the Frankfurt area before joining one of the extremist groups fighting the Damascus government.
Ladjedvardi admits he had weapons training, but claims he was in the country to help victims of Assad's regime, and was forced to pose for the photos.
The prosecution has been unable to determine which group trained him.
German prosecutors are investigating 10 cases of alleged atrocities in Syria or Iraq, as well as more than 30 cases of people returning from the Middle East who are suspected of belonging to a terrorist group.
Germany's first Isis war crimes trial starts in Frankfurt. https://t.co/9HIV1444bFpic.twitter.com/0bfEFGoMQg

— The Local Germany (@TheLocalGermany) 3 May 2016