Mass killer Breivik wins court case over 'inhuman' prison conditions
Comments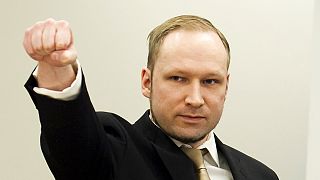 Norwegian mass killer Anders Behring Breivik has partly won a court case against the Norwegian state, in which he claimed his human rights were violated in prison.
Breivik, who appeared in court last month giving a Nazi salute, is serving a 21-year jail term for killing 77 people five years ago in a rampage in the capital Oslo.
The court ruled his jailing conditions violated the European convention on human rights, which prohibits inhumane and degrading treatment.
"The prohibition of inhuman and degrading treatment represents a fundamental value in a democratic society. This applies no matter what – also in the treatment of terrorists and killers," judge Helen Andenaes Sekulic said in her ruling on Wednesday (April 20).
The ruling also said, however, that the Norwegian state had not violated Breivik's right to a private life and a family life.
It ordered the state to pay Breivik's legal fees.
Breivik is convicted of killing eight people in a bombing in Oslo and then murdering another 69 in a rampage at a left-wing youth camp in 2011.