Life on the frontline for one Peshmerga woman soldier facing jihadist fighters
Comments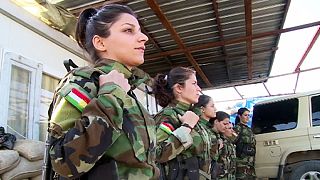 Nineteen-year-old Naishteman is just married. But life is no domestic dream. It is the start of another day in uniform on the frontline.
Her name means "homeland" – and that is why she volunteered to join a women's troop of Kurdish Peshmerga soldiers. It is the love for her homeland which made her decide to take up arms against the so-called Islamic State.
She was born into a revolutionary Kurdish family. Her husband is also a soldier in the war against the jihadists. She is aware of the daily dangers which she faces and admits to missing her family but is clear about her priority.
"We are not afraid of ISIL at all, we will continue defend our land, we will fight until the last breath, and we will not allow them to progress," she told euronews.
She is based in the northern region of Iraq from where she and her fellow soldiers help to defend the oil rich city of Kirkuk.
The troop along with the Iraqi Armed Forces, under the leadership of Kurdish Peshmerga Forces were able to defeat ISIL and retake control over Kirkuk.
Naishteman and all the members of her troop have gone through intensive training, concentrating on -among other aspects – endurance and the ability to hide their feelings and not to show any signs of weakness.
Reaping revenge for all the women who were captured or raped by the jihadists is a huge motivation.
"I succeeded shooting several ISIL fighters during the battles in which we were engaged, some were injured by my bullets, some were killed. We have had to defend this frontline several times as ISIL keep attacking us from time to time. My personal life and my military life are connected to each other, but my personal dream is to live in peace and be free with my family, that's all I wish," she explained.
It has been a year since Naishteman joined up. She makes contact with her close relatives when she can. But for now she is part of a family of fighters who support each other in the hope their roles will help create a brighter future for all their families.