Iraq exclusive: aftermath of an ISIL occupation
Comments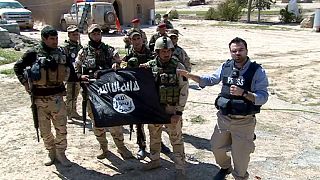 Euronews has been given exclusive access to a village recently retaken from ISIL militants, just south of Mosul in Iraq.
I will stay here until we have finally won
It is part of our continuing coverage from the frontline in Northern Iraq between the Iraqi Army and ISIL.
euronews' Mohammed Shaikhibrahim is inside the joint US, Iraqi and Peshmerga military headquarters in Makhmour pic.twitter.com/2sT9ASVO55

— euronews (@euronews) April 1, 2016
On the way to Khurbardan, Iraqi Army and Peshmerga tents closely follow the line of the road.
Anyone venturing into this open country is very vulnerable to attack.
The village of Khurbardan has recently retaken by the Iraqi forces.
Everything is in ruins. Moving anywhere takes a long time due to the large number of landmines planted by ISIL.
Soldiers tell us the fighting was fierce.
They say they were attacked by suicide bombers.
" We were attacked by a mortar shell and I got injured in my hand," said one, "but I decided to stay here on the ground and keep fighting. I refused to leave to go and get treatment for several days, I will stay here until we have finally won.
Euronews spoke to Major Amir Kareem. "We liberated this village after clashes with Daesh which resulted in significant damage and loss of human life."
"There are bodies lying in the ruins. Some were suicide bombers: we managed to kill some before they blew themselves up, others while they were doing it."
Inside the local mosque, the violence of the battle to retake the village from ISIL militants is clear to see.
A network of tunnels connecting houses in the village.
This is a strategic challenge for the Iraqi Army. They say ISIL fighters often force prisoners or villagers to dig the tunnels themselves.
Moving anywhere is slow. Following in the exact footsteps of the leading soldier is a life saver – when you are walking through a minefield.
Soldiers describe how the Iraqi Army was confronted by ISIL fighters driving trucks with rocket launchers attached.
Unexploded shells are also a danger.
On the horizon, not far away, the fighting is continuing.
Clearing mines is the absolute priority here.This can not be called a conflict in the classic sense – it is guerilla warfare between armed militia.
" Flags and dead bodies are all that were left here by ISIL after the Iraqi army managed to liberate several villages following a series of fierce battles," says Euronews correspondent Mohammed Shaikhibrahim.
"The Iraqi Army is continuing its operation in order to reach the city of Mosul."