Pictured: ISIL's remote controlled machine gun
Comments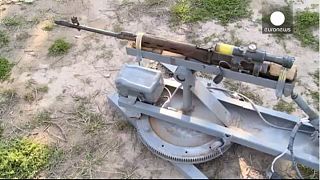 Kurdish forces in Iraq have captured a remote controlled machine gun from ISIL.
The weapon, shown to Euronews, was operated by jihadi fighters safely hidden in a bunker and watching the action above using a video camera.
A guard dog was trained to protect the area around the gun.
Its capture cost the lives of a number of troops.
On the frontline against ISIL. Our correspondent Mohamed SheikhIbrahim visits Kurdish military unit near Al Hawija,…

Posted by euronews on Monday, April 4, 2016
Kurdish forces have been making gains against ISIL fighters close to the Iraqi Kurdistan border. The area is significant as it contains several oil fields and battles for control have been fierce.
But Kurdish special forces who belong to the "Kurdish Liberation Movement" have slowly tightened their grip.
" We managed to find this weapon during one of the many skirmishes we've been having against ISIL. It can be fired remotely and has been mounted onto a movable base. It was being operated from a position underground . We were lured into a trap and we lost several of our soldiers," said Kurdish officer, Repaz Sharefi
Many of the weapons recovered have apparently been made locally and were shown to Euronews reporter Mohammed Shaikhibrahim who was given exclusive access to the Kurdish patrols.
" This position where we are now is close to whats called the Al-Howeja region where there are said to be large numbers of ISIL militants. They haven't given up their fight for the oil fields, and Kurdish special forces are on alert for any potential ambush."