Alawite leaders distance themselves from Assad - reports
Comments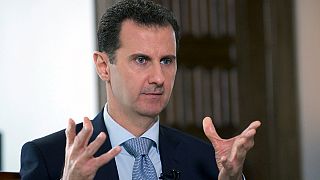 Leaders of the Syrian president's Alawite branch of Islam are reportedly distancing themselves from his government, according to Britain's Sunday Telegraph. The newspaper cites a document purportedly circulated by the religious leaders, smuggled out of Syria and shown to a handful of journalists including some working for the BBC.
Fight against terrorism continues
Meanwhile, speaking to Russian news agencies RIA Novosti and Sputnik, President Assad has vowed to keep fighting terrorism.
"There is no alternative to protect Syria if we do not fight terrorism," said Assad according to a euronews translation. "At the same time there is of course the political process. But the fight against terrorism remains essential. This is the intention of the people and the army. The army is determined to free all territories. Russia's support has been essential for this success. But there was also help from our friends: Iran and Hezbollah from Lebanon contributed to the military success."
Syrian army seized town of al-Qaryatain from
ISIL

fighters

Meanwhile the Syrian state television reports the country's army has taken control of the town of al-Qaryatain after driving out ISIL fighters on Sunday (April 3).

The town is 100 kilometres west of Palmyra which the Syrian army seized from ISIL last weekend.
Syrian army takes seizes town of al-Qaryatain from ISIL fighters on Sunday, reports Syrian state television. pic.twitter.com/VHaROOeXYY

— Keith Walker (@KeithWalkerNews) April 3, 2016