Arab League decries Brussels attacks
Comments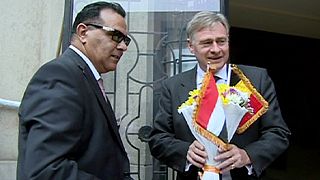 Delegates from the Arab community have flocked to the Belgian embassy in Cairo in a show of solidarity with Brussels.
Gilles Heyvaert, the Belgian ambassador in the Egyptian capital, stressed the importance of international cooperation in the wake of the terror attacks.
"We're developing all possible cooperation, developing new techniques," he told euronews. "Technical enquiries are, of course, welcome because it's an obvious need to progress in (our) understanding, in preventing future aggression."
The Deputy Secretary General of the Arab League called on international leaders not to let terrorism sabotage the strong ties between Europe's Muslim and non-Muslim communities.
"The Arab Muslim community must reject and expel those extremist elements out of their society and community," said Ahmed Ben Heli. "Because they use the Islamic religion as an excuse for these criminal acts, when in fact they are unrelated to the tolerant religion. These acts harm the Arab and the Muslim community in Europe first and foremost, as well as being harmful to other religions."