"Terror has no religion" - Brussels mourns
Comments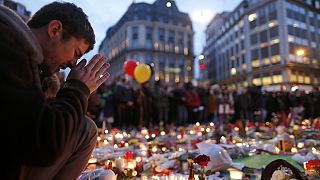 The Belgian capital's main square, Place de la Bourse continues to draw mourners, many holding posters with the defiant message "No to Terrorism".
More and more candles and flowers have been laid in honour of the victims of Tuesday's blasts.
Among the crowds were many Muslims, one of whom said what happened shouldn't be associated with any religion.
"We came here in number to say no, first to show some solidarity with those who lost some relatives because it could happen to anyone, it could be us, our children, our parents, so we came here to say no to hatred, stop terrorism, and to say that terrorism doesn't have a religion."
Heartbreaking: Mother Sonia, pictured embracing her two children Mateo and Alessia at Brussel's Place de la … https://t.co/YPfRKIZXhA

— Salome Bolkvadze (@SallyBolqvadze) March 23, 2016
Earlier the King and Queen of Belgium laid flowers outside the entrance of Maelbeek metro station, the site of the second attack.
The visit came after they'd observed a minutes silence at the European Commission headquarters as well as offering comfort to some of the injured in hospital.
Brussels mourns as police search for suspect: Mourners gathered at a candlelight vigil in Brussel… https://t.co/z7bz25UDN4#Qatar#Doha

— Peeknpick (@Peeknpickq) March 23, 2016