Police hunt gunmen after several police officers injured in Brussels shooting
Comments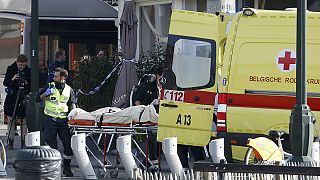 NB an updated version of this story is now available here.
Armed Belgian police backed by French forces have been involved in a major security operation in Brussels, linked to November's Islamist attacks in Paris.
In the early evening special forces reportedly stormed a house that had been under siege all afternoon. The authorities say one terrorist suspect has been killed.
Earlier four officers were injured – one seriously – in a shootout as they carried out a raid on a house in the southern district of Forest.
It's thought a number of other suspects could still be at large. One or two were said to have escaped across the roofs of buildings; one was reportedly armed with a machine-gun.
Some schools were evacuated but reports said children in at least one were still locked down inside as evening fell.
The district was sealed off in mid-afternoon as a major security operation was launched. A helicopter and Belgian special forces were sent to the scene.
Local police confirmed the raid was part of an ongoing investigation into the November attacks in Paris. The French interior minister Bernard Cazeneuve, speaking from Ivory Coast, confirmed that French police were taking part in the Brussels raid.
Mayor of #Forest told media that two scools are closed in the area because anti terror raid with children still inside.

— Sándor Zsíros (@EuroSandor) 15 March 2016
Eleven people have been charged in Belgium in connection with the Paris attacks that killed 130 people and injured hundreds. Eight of them are still in custody. The investigation has established that the atrocities were largedly planned and coordinated from Brussels.
According to police sources, Tuesday's operation did not target Salah Abdeslam, one of the main suspects wanted over the Paris attacks, but rather the entourage of one or several of the 11 people charged.
This is the scene of the anti terror raid in Brussels. Area completely blocked by police. pic.twitter.com/O3dZVsPr8o

— Sándor Zsíros (@EuroSandor) March 15, 2016
More police arrive at Forest. pic.twitter.com/4rG4fUv2sX

— Sándor Zsíros (@EuroSandor) March 15, 2016
In pictures: Victim removed from the scene where shots were fired in the suburb of Forest near #Brussels#Belgiumpic.twitter.com/nhXbGva2id

— euronews (@euronews) 15 March 2016