EU leaders are using us as pawns in a Game of Migrants, say refugees
Comments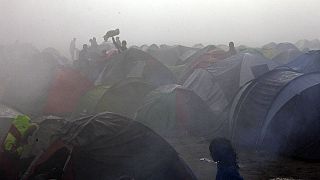 While EU leaders and Turkey continue to thrash out a deal on the migration crisis, refugees on the ground on the Greek-Macedonian border say they are angry and disappointed with the progress of the talks.
An agreement has reportedly been made in principle to return migrants who do not qualify for refugee status to Turkey, in return for resettling within Europe an equal number of refugees.
But while some wait, stranded in a waterlogged refugee camp, they say they are being used as pawns.
GREECE – Migrants sit under the rain near the gate at the Greek-Macedonian border near Idomeni. By dilkoff</a> <a href="https://twitter.com/hashtag/AFP?src=hash">#AFP</a> <a href="https://t.co/JMP4Md92OO">pic.twitter.com/JMP4Md92OO</a></p>&mdash; AFP Photo Department (AFPphoto) March 8, 2016
Abu Haida, a refugee from Syria said: "We are the playing cards. No one looks at us as a human kind. We have dreams, we have a life, we have children. No. They are looking for us as money, as numbers."
While Ahmed, who is also from Syria, said the stranded refugees were angry: "Of course that make us feel disappointed. You know, Most of people here have a hope that they will open the borders, at least for those people stuck here on the border, but finally they said no way to go through these borders. This make us feel so bad, angry."
This is what #Idomeni looks like after a night of heavy rain. No rainbows, just thick sticky mud. pic.twitter.com/Hurrdo4DlT

—

MSF

Sea (@MSF_Sea) March 8, 2016
Meanwhile Macedonian security forces arrested four migrants from Afghanistan who attempted to cross from Greece in a field five kilometres from Idomeni.
The four were escorted back to the border.
Police say a number of migrants have been trying to cross the border in areas where there is no fence.
Idomeni, latest testament to Europe's failure to address the refugee crisis pic.twitter.com/eVKiqnblA9

— Peter Bouckaert (@bouckap) March 8, 2016