The plight of refugees in Idomeni on the border with FYROM
Comments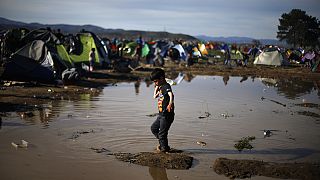 They wait together in hope at midnight. But the refugees don't know if and when the border guards will call them forward and give them a chance to pursue their dream of a life in Germany. Only those who have fled from an area of conflict have a chance. A few hundred will get through at any one time.
This is one of the daily scenes at a refugee camp in Idomeni on the Greek border with the Former Yugoslav Republic of Macedonia.
Most know it will be a long wait in the camp and so it is a scramble for food and clothes to stock up for the long days and nights. They are provided by volunteers like Marilena Zarfdjian who becomes emotional as she talks about the plight of those she is helping.
"I just can't talk," she said as tears came to her eyes. "The refugees are human beings. We live in our comfort, in our homes. Of course we have our problems and we have the economic crisis. But this is about survival."
There is no time table for distributing aid. Volunteers from Thessaloniki work through the night handing out the food to the hungry. It has been donated by ordinary people from Greece and collected by the volunteers.
"As human beings we felt the need to come to Idomeni and help these people who are suffering. They are impoverished. They are stuck in this place, waiting for the borders to open. Some of them came here 15 days ago. They have nothing to eat," explained Dimitris Papageorgiou a volunteer with the Thessaloniki – Love without borders organisation.
Hunger is not the only enemy. Bad weather and in particular rain adds to the suffering. Everything gets wet and the tents cannot repel the constant downpour.
There is no shelter and the women and their children have no option but to sleep on the ground, in the mud. The only thing they want is to cross the border and continue their journey.
"It is very bad, very bad. It's raining and no one cleans. We are tired, but we don't want food, we want to go to Germany," said a mother from Syria.
Euronews correspondent in Idomeni, Apostolos Staikos said: "Many refugees and immigrants have realized that they won' t reach their final destination, a lot of them will stay in the country. Greeks also understand that refugees won't leave Greece and that thousands will be trapped here."