Australian sex abuse victims call for Papal promise to protect children
Comments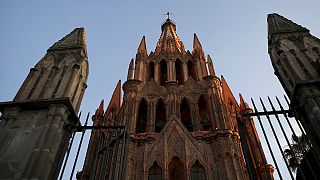 Australian victims of sexual abuse by Roman Catholic clergy have called for a face to face meeting with Pope Francis.
They want a Papal commitment to protect children in the future.
Testimony from a high ranking Vatican official that he'd been lied to and knew nothing of alleged abuse in the 1970s has frustrated witnesses.
''We want to be heard and we want someone to show that they care about us and can possibly help change things for the children into the future," said abuse victim Phil Nagle.
David Ridsdale added: "Maybe all institutions need external systems to ensure that they are actually keeping their side of the bargain of protecting children, because obviously the current system allows too many people to say 'I didn't think it was my job to protect the children'."
Cardinal George Pell is testifying by video-link to Australia's Royal Commission into the church's response to child sex abuse cases.
Both Nagle and Ridsdale went to Rome after Pell said he was unable to travel to his native Australia because of heart problems.
His failing memory over what he knew about abuse complaints in Victoria and denials that he was complicit in the transfer of a paedophile priest have sparked anger among abuse survivors.
Pell was specifically asked about abuse by one priest who was later convicted of 138 offences against more than 50 children in Australia.
His response; " It was a said story and it wasn't of much interest to me" prompted audible gasps and has been seized upon by the Australian media.
PR and Online Marketing Daily is out! https://t.co/vHMv7N8LIL Stories via worldairgroup</a></p>&mdash; PR Services UK (prservicesuk) February 29, 2016