Children were not believed, Cardinal tells Australia abuse commission
Comments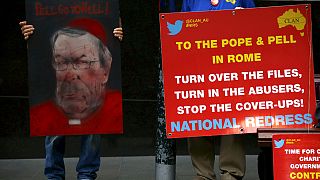 George Pell, the highest-ranking Vatican official to testify at a Royal Commission in Australia into systematic child sex abuse, said children were not often believed and abusive priests were shuffled from one parish to another.
The Church has made enormous mistakes and is working to remedy those
The 74-year-old Cardinal was giving evidence from a video link in a hotel room in Rome for the four-day commission.
Fifteen abuse victims and supporters travelled to Rome from Australia to see Pell give evidence. He says he was unable to travel to his native Australia because of heart problems.
"I'm not here to defend the indefensible, Pell said. "The Church has made enormous mistakes and is working to remedy those, but the Church in many places, certainly in Australia, has mucked things up, has let people down."
Pell is not accused of abuse and has twice apologised on behalf of the church. But he has become a focal point for victims' frustrations, over what they say has been an inadequate response from the church over cases that occurred decades ago.
David Ridsdale, a survivor of abuse by his uncle, former priest Gerald Ridsdale, said: "There were some statements said that were certainly more constructive than previously, but saying that, there was a very careful selection of words. There was a very careful manner that it was discussed. Issues like kissing boys as being 'eccentric' strikes us as more than eccentric. Creepy, at the very least."
"They really only started with the basic questions," added Andrew Collins, a survivor of abuse by a priest.
"They haven't gotten to the hard stuff yet, they're just building up to that. So we would not expect a great deal on the first night."
The cardinal said he was aware of rumours and complaints against paedophile clergy when he was a young priest in the 1970s but that church superiors tended to give priests the benefit of the doubt.
In Sydney, victims' supporters gathered outside the Commission's hearing rooms holding hands in prayer and carrying signs saying "Pope Sack Pell Now" and "Pell go to Hell".
Pell is scheduled to give further evidence over the next three days.
George Pell: church had 'predisposition not to believe' children who complained about priests https://t.co/o9UdzGKyP1

— Andreas Baader (@stop1984) February 29, 2016
In terms of PR, George Pell's entrance probably not the best start – back door, heavy security. Victim Anthony Foster: "we're used to it."

— Chris Reason (@ChrisReason7) February 28, 2016