Syria's shaky ceasefire in doubt? Reports of bombings and strikes
Comments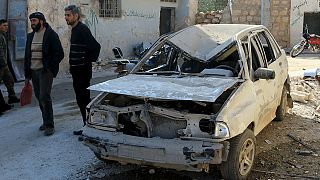 Amid Syria's shaky ceasefire, there claims of breaches.
Barrel bombs are said to have been dropped on Homs province, with one video alleging the Syrian regime has violated the truce.
It is also claimed that a Russian warplane has hit a town in Idlib province.
Air strikes were reported to have targeted rebel-held areas in Aleppo and Hama on Sunday too.
War planes hit six towns in the northern Aleppo province, according to monitors. Insurgents claim they were Russian jets, but others say their identity is unclear.
Syria's state media did not report the strikes and Russia's defence ministry did not comment.
It is hoped the fragile ceasefire will help get aid to besieged areas. A UN official has said that supplies should be delivered this week to more than 150-thousand people.
The truce is part of a US and Russian plan. It does not cover assaults on ISIL and Nusra Front militants and it seems its overall effectiveness is now in doubt.