Syria: air strikes reported in the west of the country
Comments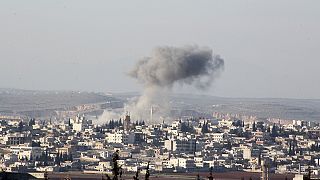 Military aircraft have attacked six towns in western Syria and near Aleppo.
The London-based Syrian Observatory of Human Rights says the attacks were reported by activists on the scene.
Rebel fighters informed the group about the attacks.
The identity of the planes is not yet clear.
It comes after an internationally-brokered ceasefire began at midnight on Saturday.
Claim and counter-claim
News of the attacks comes from Syrian opposition forces, who claim the planes were of Russian origin.
This has not been officially confirmed.
The Russian coordination centre in Syria says it has received information of an attack from Turkish terrritory on the Syrian town of Tel Abyad.
The news come from the Interfax agency, quoting the Russian Ministry of Defence.
Quoting the head of the coordination centre, the agency says Moscow has contacted a US centre in Amman for clarification.