Fragile ceasefire is holding in Syria
Comments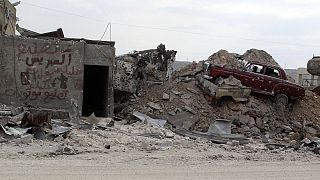 We feel glad that nothing has happened today
US and Russian monitors insist the fragile truce in Syria is holding, despite a number of violations.
Officials say the agreement has been breached at least 9 times in 24 hours.
It came into force just after midnight in the early hours of Saturday.
What about the airstrikes on Sunday morning?
News of attacks on six villages in the Aleppo area came from Syrian insurgents.
They claim the planes involved were of Russian origin.
This has not been officially confirmed.
The Syrian Observatory for Human Rights says some of the villages were controlled by the Nusra Front and other Islamist groups.
The Russian coordination centre in Syria says it has received information of an attack from Turkish territory on the Syrian town of Tel Abyad.
The news comes from the Interfax agency, quoting the Russian Ministry of Defence.
Quoting the head of the coordination centre, the agency says Moscow has contacted a US centre in Amman for clarification.
Damascus
Shelling has been reported in some neighbourhoods of Damascus.
One person has been injured and property damaged.
Doesn't this violate the terms of the ceasefire?
It depends on the target.
The truce is only a partial one. It only applies to parties engaged in the conflict between the Syrian government and its opponents.
ISIL and the al-Qaeda-linked Nusra Front forces are specifically excluded from the ceasefire agreement.
Analysts say Russian and Western attacks against these two groups are likely to continue.
Tel Abyad
The Turkish military has denied a Russian claim it attacked the Syrian Kurd border town of Tel Abyad.
Turkish President Recep Tayyip Erdogan told reporters the ceasefire is only being partially adhered to.
"When we look at where is being implemented, it is only one-third of Syria, not the entire country."
Armed groups who comply with the truce
Russia has list of 17
United States has list of 69
What they are saying
"We do not know which planes carried out the strikes and also we are not sure if this is considered a breack to the truce, because it is not clear if these towns are included in the truce." – Rami Abdulrahman, Syrian Observatory for Human Rights.
"This ceasefire is only partially being adhered to. And when we look at the areas where the ceasefire is being implemented, I think it is only about one-third of Syria. So it is not the whole of Syria." – Turkish President Recep Tayyip Erdogan.
"People can walk on the street freely. We feel glad that nothing has happened today. It is getting better."- Nina Alhelo, Damascus resident.