Germany rethinks Middle East arms deals
Comments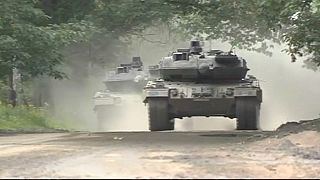 Germany doubled the amount of arms it exported last year to eight billion euros, despite the government having a stated policy of reducing it.
With violence in the Middle East escalating Berlin, publicly anyway, has been having second thoughts about sending more arms to a already tense region.
Despite that a deal including tanks and artillery must be honoured with the the Gulf state of Qatar, the Vice Chancellor told parliament.
"We checked if we could take back the foreign trade law approval. But we realised that it was impossible without the agreement of all those ministries of the old administration that gave the war weapons control law approval," Sigmar Gabriel said.
Other arms deals are also being re-examined, including one with Saudi Arabia which has shelled Shiite rebels in neighbouring Yemen and imposed a sea blockade there.
Saudi Arabia has led a military coalition military to prevent Iranian backed Shiite rebels from taking complete control of Yemen.
The United Nations said more than 6,000
people were killed in Yemen last year, half of whom were civilians.
UN sanctions monitors said in a report last month that the Saudi led coalition and the Houthi rebels have targeted civilians and that some of the attacks could amount to crimes against humanity.