Modern warfare brings ancient Aleppo to its knees
Comments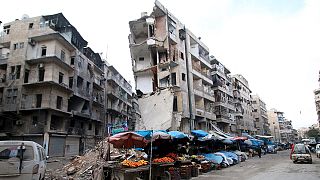 Syrian government forces are tightening the noose on the city of Aleppo, which since almost the very start of the Syrian civil war has mostly been in rebel hands.
Now they are losing grip. Blasted from the air by the Russians, they are less able to resist Assad's ground offensive, where he has pitched 10,000 men into retaking the city.
This ancient architectural and cultural treasure is also Syria's economic and industrial hub, but it now shakes to the impact of barrel and outlawed cluster bombs, the latter filmed dropped from a Russian-made SU 24.
The Kurds are moving into territory lost by the rebels and ISIL, and going on the offensive north of Aleppo to hit the Menagh air base and other towns. They get bombed by the Turks, but the Russian air force is supporting them.
All four of the Syrian civil war's main protagonists are fighting for Aleppo;
the rebels, the government, ISIL and the Kurds. Each has their own objectives and interests.
Damascus wants the city surrounded and cut off from resupply from Turkey. The rebels have to keep that corridor open. The Kurds are seeking to link up three regions they control, and ISIL lurks to pick up deserters and the disillusioned to its cause.
The offensive has triggered the exit from the city of tens of thousands of people already. If the fighting were to get any worse tens of thousands more are ready to follow, putting further strain on Turkey's refugee facilities.
Those parts of Aleppo that have already been hit hard show residents the worst of what may be about to come. Never in its thousands of years of history have its stones been shattered so completely. For this former tourist guide it is all too much.
"I am really shocked. For five years so far now, I was not able to come to Aleppo and see what is it we have here," said Muhamed Al-Khousi, weeping as he stumbles in the ruins of passageways and alleys that once served as a theatre for his oral histories of the people who once lived here, and the events of the past.
The city's power station is now back in government hands after ISIL seized it in 2014, and as success follows success for Assad's forces in Aleppo, the rebels edge towards the prospect of expulsion from the city. That, say some, would mark the beginning of the end for the rebellion.