Taiwan quake: rescue efforts over at site of toppled apartment block
Comments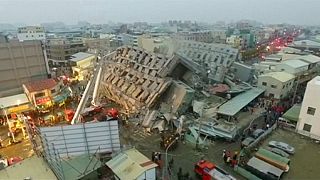 Rescue efforts are over at the site of a collapsed apartment block in Taiwan, with the death toll reaching 114.
The building was toppled in the city of Tainan by a powerful earthquake a week ago.
The last person pulled out of the rubble was a member of the block's management committee.
Everyone believed to be missing has now been accounted for.
"The total number of people found has reached 289. Among them were 175 survivors and 114 people were killed. Also, 96 people were sent to hospital for medical treatment," said William Lai, Mayor of Tainan.
Buddhist and Taoist associations have held prayer rituals in Beijing for victims of the quake.
Meanwhile, authorities are probing why the apartment block in Tainan came down.
Three people, including the developer, are being questioned on suspicion of professional negligent homicide.