Increasing obstacles for migrants on Greece-FYROM border
Comments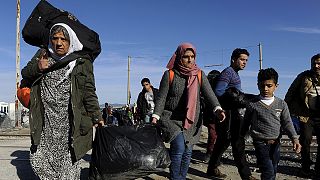 The International Organization for Migration estimates 68,778 migrants and refugees reached the Greek islands between January 1 and February 4, 2016.
Most head north, through mainland Greece to the former Yugoslav Republic of Macedonia (FYROM) and onwards.
But they're facing increasing numbers of obstacles. Thousands of people are stranded on the Greek side of the border.
With little food, no proper sanitary facilities and no fixed shelter, some are starting to worry about their money running out.
Iraqi refugee, Abdula, was among those waiting at the border.
"You can see this, there is no place to sleep. Most of the people sleep on the bus and it's windy and cloudy and sometimes raining," he said.
Bezan, an Afghan refugee added:
"We don't have enough food. Just in three days they have once (distributed) food and always we are buying. We are thinking if we finish the little money we have, what can we do?"
Onward travel has been slowed down due, in part, to a protest by Macedonian taxi drivers who say business is suffering because migrants are being directed to public transport to continue the journey north.
Some people have set out on foot for the border. Officials are warning that transit camps in the area are full to capacity.
Border security has also been stepped up, with Macedonian authorities demanding a 30-minute interview with each person wishing to enter, to verify their identity.