'One document to fit all' - police push for coordinated migrant registration
Comments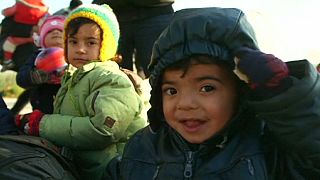 As the European Union struggles with trying to agree a common policy on the refugee crisis, several western Balkan countries have unilaterally agreed to establish common registration procedures for migrants who pass through their territories.
Police chiefs from the former Yugoslavian Republic of Macedonia, Slovenia, Croatia, Serbia along with Austria stressed it would be a coordinated approach.
Goranco Savkovski, FYROM's Public Security Director explained:
"What we need is a standardisation of the document (issued to migrants) and we have agreed on what exactly this document must contain. But it is important that it originates from the countries which will be receiving the migrants (Germany, Austria)."
If the destination countries including Germany agree, the move should alleviate bottle-necks of migrants at different borders. Police say the creation of a document with information entered on a database shared and accepted by all EU member states will also help speed up security checks.