Ski jumping: Slovenia rocks Japan
Comments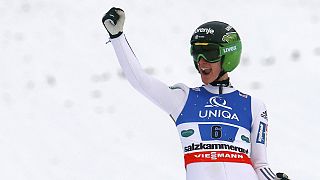 For the moment at least Slovenia rules when it comes to ski jumping and one family in particular after a European triumph at the World Cup in Sapporo in Japan.
Peter Prevc took first, his younger brother Domen came second and fellow Slovenian Robert Kranjec came in a number three.
Flying through the air at nearly 90km an hour Peter scored an overall 299 points, twelve points ahead of his younger sibling.
Peter Prevc and Kranjec shared the lead after the first jumps as both men scored 131.5 points, but while the later could only muster 141.4 second time around, there was no such trouble for the former who scored 147.0 to take the win.
And there was even more for Peter Prevc to celebrate as the victory was his eighth in this year's World Cup season, a new record for a Slovenian ski jumper in a single campaign
beating the previous total of seven wins achieved by Primoz Peterka back in 1996/1997.