Big deals in France on latest leg of Rouhani trip to Europe
Comments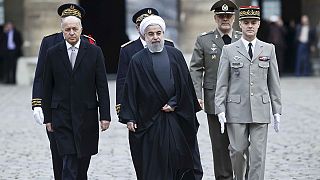 Iran's president continues his coming-in-from-the-cold mini European tour, doing deals
with the French to add to the 17 billion euros worth of deals he signed with the Italians earlier this week.
Included is an order for 100 Airbus passenger jets, and car-making and train agreements with Peugeot and the state-owned SNCF.
President Hassan Rouhani is meeting with every echelon of French state power, and is guest of honour at a meeting of the Iran-France business forum, organised by the employer's federation.
"Thanks to the nuclear agreement of July 14 2015 we can open a new chapter. You all know that France is very happy that this deal has been fully implemented
since the January 16 IAEA validation," said Prime Minister Manuel Valls.
One false note was struck when human rights activists Femen staged one of their characteristically lurid protests on a bridge over the Seine, once again underlining the plight of some women in Iranian society and the Islamic Republic's justice system.