Nude statues covered in Rome so as not to offend Iranian president
Comments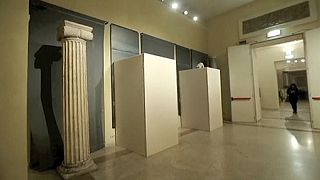 Boxed up so as not to offend … Italy's Prime Minister Matteo Renzi has come under fire after ancient nude statutes in Rome's Capitoline museum were covered up during a visit by Iran's President Hassan Rouhani.
Politicians across the spectrum said it was a step too far to please a guest and that business had come before Italy's cultural identity.
Italy and Iran will sign up to 17 billion euros of business deals during the two day visit of the Iranian delegation which began on Monday,
"Respect for other cultures cannot and must not mean negating our own," said Luca Squeri, a lawmaker in former Prime Minister Silvio Berlusconi's centre-right Forza Italia party. "This isn't respect, it's canceling out differences and it's a kind of surrender."
At Iran's request Italy also kept wine off the menu at a ceremonial dinner on Monday evening.
Nude statues covered for Hassan Rouhani at Rome's Capitoline Museum – video https://t.co/OSYP7Fsc0a Are you serious????? Ridiculous

— elizabeth moynihan (@elizabethmoy) January 26, 2016