Iran's Rouhani in Paris to drum up business with France
Comments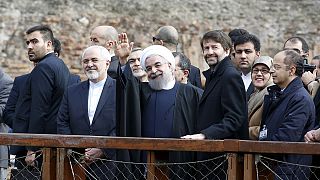 Iran's President Hassan Rouhani arrived in Paris on Wednesday (January 27) for the second leg of his European visit.
Today, we have this 'win-win' situation
He's expected to clinch significant business deals following the lifting of international sanctions over Tehran's nuclear programme. Among them is a likely order for more than 100 new Airbus planes.
Rouhani will also meet French President Francois Hollande on Thursday (January 28).
Earlier this week, Italy rolled out the red carpet for Rouhani and his 120-strong delegation of business leaders and ministers.
This picture of Rouhani at the Colosseum is serious postcard status. pic.twitter.com/QNembzeerM

— Adrienne Varkiani (@AdrienneMahsa) January 27, 2016
The Iranian president visited the Colosseum in Rome, met the Italian prime minister and the Pope, and contracts worth around 17 billion euros were signed between Italian and Iranian companies.
Rouhani told reporters that international sanctions on Tehran had long deprived European companies of access to the Iranian market. "But today, we have this 'win-win' situation," he said.
Nude statues covered at #rome Capitoline museum for visit of #iran's #rouhanihttps://t.co/LTZ6j6SfYX via Agenzia_Ansa</a></p>&mdash; JosephineMcKenna (JosephineMcK) January 26, 2016
Still, Italy's government came under fire after ancient nude statues in Rome's Capitoline museum were boxed up during Rouhani's visit — so as not to offend the Muslim cleric.
Politicians across the spectrum said it was a step too far to please a guest. Rouhani said Iran had made no request for the cover-up.