Human Rights: affected by fear?
Comments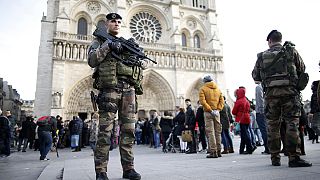 The campaign group Human Rights Watch has issued its annual report, "The Politics of Fear".
The 659-page dossier reviews human rights practices in more than 90 countries.
The 2016 report says human rights in Europe have suffered as a result of the terrorist attacks in France and the ongoing migrant crisis.
"The fear of terrorist attacks and the potential impact of the influx of refugees has led to a visible roll-back of human rights in Europe and other regions," commented Kenneth Roth, the director of Human Rights Watch (HRW).
"The growing fear of terrorism in Europe has given rise to an explosion of Islamophobia and an increasing scapegoating of refugees and other migrants."
"As a counter-terrorism measure, Islamophobia is the last thing you want. It is obviously wrong in itself but it is also exatly what IS wants."
"If you were an IS fighter trying to figure out how you build an environment in which you can gain more recruits, the first thing you would do would be to try to widen the divides in Europe, to build Islamophobia and make the Muslim population in Europe feel more and more isolated."
Significant refugee flows to Europe, coupled with broadening attacks on civilians in the name of the extremist group ISIL have led to fear-mongering and Islamophobia, HRW says.
And, as European governments close borders, they are reviving old patterns of shirking responsibility for refugees by passing the problem to countries on the periphery that are less well-equipped to house or protect them.
European governments are also distracted from addressing their homegrown threats and taking the steps needed to avoid the social marginalisation of disaffected populations.