CAR: elections annulled in strife-torn country
Comments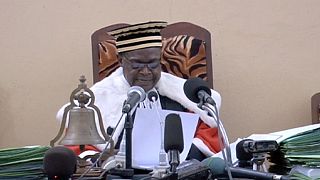 Results certified from first round
Legislative election annulled due to "irregularities"
Two former prime ministers in run-off
Poll not expected before February 7th
CAR constitutional court: Legislative elections of 30 December invalid, cites "numerous irregularities," candidates implicated. #CARcrisis

— Evan Cinq-Mars (@ecinqmars) January 25, 2016
The top court in Central African Republic has annulled last December's elections over what is says were "irregularities".
Fresh elections should be held within 60 days of the last one, according to law, but analysts say that is unlikely to happen in a country with limited infrastructure.
Presidential run-off
However, the constitutional court has confirmed who will contest the presidency in a long-awaited run-off later this month.
Centrafrique : les deux anciens premiers ministres Anicet Georges Dologuélé et Faustin… https://t.co/MSBk1wyDa6pic.twitter.com/FOILzZoFTx

— Canalfrance.info (@Canalfranceinfo) January 8, 2016
Two former prime ministers will compete in the run-off.
BANGUI: POURQUOI LE CANDIDATANICETGEORGESDOLOGUELEEST LE CHOIXIDEALPOUR LA JEUNESSE… https://t.co/Dmrlu9JmPzpic.twitter.com/TF2gYu5gMi

— Corbeau News (@CorbeauNews) December 10, 2015
The results, certified on Monday, gave the leading candidate Anicet Georges Dologuele nearly 24 percent of the vote.
Meet Faustin Touadera, the Former Math Teacher Who Could Lead CARhttps://t.co/sloFk81W9W#centralafricanrepublicpic.twitter.com/0pALiSwELm

— Newsweek Europe (@NewsweekEurope) January 5, 2016
Second-place finisher Faustin Archange Touadere was on 19 percent.
The context
CAR: latest results show former PM Faustin Touadera has a lead with over a quarter of votes counted. (Photo: AFP) pic.twitter.com/zG0ZIYxf2x

— africanews (@africanews) January 4, 2016
The run-off was initially scheduled for January the 31st but is now expected no earlier than February the 7th.
Whoever wins the election will take over from a transitional government that came to power in 2014 when a rebel leader stepped aside less than a year after his forces overthrew the government.
Sectarian violence between Christians and Muslims in the past several years has caused nearly one million people to flee their homes.
In numbers
Mr Dologuélé won 268,952 votes, corresponding to 23.74% of the national vote.
Faustin Archange Touadéra won 215,000 votes, or 19.05% of the national vote.
Désiré Kolingba, the son of a former head of state, came third with 135,198 votes (12.04%)
Former Prime Minister Martin Ziguélé came fourth with 129,474 votes (11.43%)
Jean-Serge Bokassa, another son of a former head of state, was fifth with 68,705 votes (6.06%)
In total, 30 candidates took part in the first round of voting.
1,362, 886 votes were counted.
Two million were eligible to vote in the country.
What they are saying
The legislative vote was flawed by "numerous irregularities and the involvement of the candidates in them."- Zacharie Ndouma, President of the Constitutional Court.