Dozens hospitalised after chemical explosion of toxic gas at Brazilian port
Comments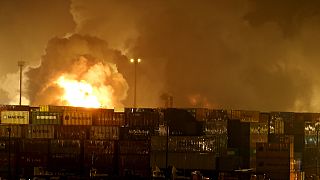 A chemical explosion at Brazil's biggest port is spreading toxic gas, prompting the evacuation of one terminal and nearby homes.
Local media report dozens of people have been hospitalised following the incident at a cargo warehouse in Santos port, in Guaruja, in the south east of the country.
Sixteen containers are said to have caught fire.
Firefighters say they now have the blaze under control. However, local Mayor, Mario Antonieta de Brito, is warning people to stay indoors and out of the rain, in case it contains "chemical elements that can burn the skin."
#URGENTE: Prefeitura do Guarujá recomendou que TODOS os munícipes se protegessem do gás. pic.twitter.com/yTvLPF3ViZ

— Allan Nóbrega (@allannobrega) January 14, 2016
Anny Kaelly works at the affected warehouse. She described the reaction to the explosion.
"When we realised what was going on, we left in a hurry. We left everything there. It's all there. Car, purse, bag… It's all there."
The main product being stored was sodium dichloroisocyanurate, a chemical compound widely used as a type of chlorine, or cleansing agent for water.
It should be kept in a sealed environment, however rain is said to have come into contact with the chemical, causing an explosion. It's not known how the water managed to seep through the containers.
In images
Nuvem de gás vaza de terminal de cargas em Guarujá https://t.co/9kxaUUtX4dpic.twitter.com/ZmsRMxXug9

— Época (@RevistaEpoca) January 14, 2016
Vazamento de gás em Guarujá provoca nuvem gigante de fumaça no litoral https://t.co/MehQzTdUzhpic.twitter.com/jC47siOYAR

— UOL Notícias (@UOLNoticias) January 15, 2016
Fumaça no Guarujá causou pânico e lotou prontos-socorros https://t.co/NJkqeqPIxepic.twitter.com/obukFkbgxD

— Estadão (@Estadao) January 15, 2016
Vazamento de composto de cloro atinge terminal de cargas em Guarujá, SP https://t.co/ZayAI993Jvpic.twitter.com/tQlPNtiA0W

— G1 (@g1) January 14, 2016