'Three Russians held' in new Turkish raids after Istanbul bomb
Comments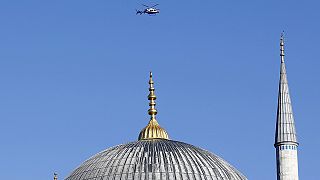 Turkish police have said to have made more than a dozen arrests of suspected ISIL members or sympathisers, in fresh raids around the country following Tuesday's suicide bombing in Istanbul.
The target was Turkey. They did this to damage the Turkish economy
They include three Russians who were detained in the southern province of Antalya.
Another six alleged recruits were held in Izmir on the Aegean – where police reportedly seized guns – while four suspected sympathisers were picked up in central Turkey.
The operation came on top of raids on Tuesday in which around 60 suspected Islamists were arrested. It's unclear whether there was a link with the Istanbul bombing.
The attack on tourists is seen as a direct challenge to the state.
"The target was Turkey. They did this to damage the Turkish economy. It was a deliberate attack," said one Istanbul resident.
"Of course this will affect tourism. They come to visit our country and ten people die. Would you like to come to this city again if it were you?" another man added
There were still some visitors to Sultanahmet Square on Wednesday morning – as well as reminders of the suicide attack which killed 10 people, mostly German visitors.
Turkey says the bomber was a Syrian member of ISIL, of Saudi origin.
President Erdogan says the country, which joined the international coalition against the Islamists last summer, was the top target for all terrorist groups in the region.