Footage emerges of suspected Istanbul suicide bomber
Comments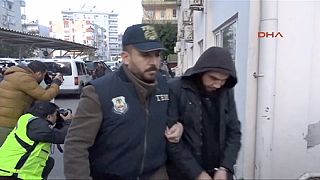 Turkish media on Wednesday (Jan 13) released what they say is footage of the man who blew himself up in the center of Istanbul, killing himself and 10 German tourists.
The man in his late twenties is believed to have been a member of ISIL who came from Syria.
Since Tuesday, Turkish police have made more than a dozen arrests of suspected ISIL members or sympathisers. They include three Russians detained in the southern province of Antalya.
Prime Minister Ahmet Davutoglu confirmed that five of the arrests were directly tied to the attack, which Turkey has blamed on ISIL, also known as Daesh.
"The link between the suicide bomber and Daesh has been confirmed. We will step up our efforts to find and uncover the real players behind this terrorist organization," Davutoglu said.
The suicide bomber struck Sultanahmet Square, in the historic heart of Istanbul, killing 10 German tourists.
Seventeen people were wounded in the attack, six of whom remained in hospital on Wednesday.