German-Turkish tribute to victims of Istanbul attack
Comments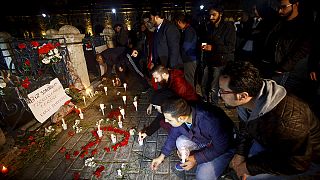 Turkish Prime Minister Ahmet Davutoglu and German Interior Minister Thomas de Maiziere paid their respects on Wednesday (Jan. 13) to victims of the suicide bombing that killed 10 German tourists in Istanbul.
Tuesday's attack, in broad daylight in a top tourist spot, is the most deadly for Germany in over a decade. But Berlin says there is no indication its nationals were specifically targeted.
"I see no reason to change travel plans to Turkey. Of course travel alerts, which are being put together by the foreign ministry and the interior ministry, need to be observed, so as not to travel to certain crisis regions," de Maiziere told reporters.
PM Davutoglu and German, Turkish ministers leaves flowers at Sultanahmet Square for terror victims #Istanbul#Turkeypic.twitter.com/5pH0llviBg

— Turkiye Newspaper (@tgnewspaper) January 13, 2016
The suicide attack rocked Sultanahmet square, near the Blue Mosque and Hagia Sophia, wonders relished by tourists from around the world.
David Keesling, a German visitor, escaped the attack.
"We were over there in Hagia Sophia and we heard the blast and we stayed in there for two hours because we though it was the most secure place," he said.
"We leave today and before that we wanted to come back and show our condolences to the Turkish people because we enjoyed our time here in Turkey and personally I will definitely come back to Istanbul".
There were still visitors to Sultanahmet Square on Wednesday, as many came to pay tribute to the victims, laying flowers and German football scarves.
Istanbul is one of the most visited cities in the world and some fear the attack could fragilise Turkey's $30 billion tourism industry.
What the Istanbul attack means for tourism in the city https://t.co/l5ZHktgMK2

— The Independent (@Independent) January 13, 2016