Turkey assesses security after Istanbul suicide bomb
Comments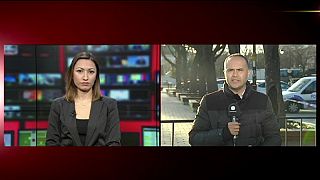 Tuesday morning's suicide bomb in Istanbul came as Turkey was still in shock after last October's attacks in Ankara, which killed more than 100 people.
Euronews correspondent in Istanbul, Bora Bayraktar, reported from Sultanahmet Square, close to the scene of the blast – and gave Melis Özoğlu an update of the latest information.
Bora Bayraktar, Istanbul:
"Melis, right after the attack, police cordoned off the area. Crime scene investigators are now about to complete their examination which lasted for hours.
"This morning a suicide bomber blew himself up. Eyewitnesses say that there was a "very strong smell of gunpowder and smoke" in the area after the blast. They are also saying that the impact of the explosion caused the ground to shake.
"The explosion was heard not just in the area itself but many neighbouring districts. According to witness statements the bomber blew himself up near a group of tourists."
Melis Özoğlu, euronews:
"Foreign officials are warning their nationals in Turkey to stay away from public places and crowded areas. As far as you can see, how is the atmosphere among foreigners in Turkey?"
Bora Bayraktar, Istanbul:
"To be honest, straight after the attack, I walked to Sultanahmet Square. I saw lot of tourists still wandering around the place. If you didn't think about the attack itself, it seemed as if it had never happened. There are lots of tourists around the place right now, but we should also mention that the attack has only recently happened.
"Perhaps, in the coming days with the effects of these warnings, the number of tourists planning to visit Turkey may decline. But we need to underline that terror threats have spread globally. Therefore no matter where you go, its not easy to escape this threat."
Melis Özoğlu, euronews:
"Lastly, the capital Ankara has increased its vigilance after the attack and the authorities held an emergency security meeting. What will be the government's next step following this event?"
Bora Bayraktar, Istanbul:
"Melis as you know, since last July's attacks at Suruç (near the Syrian border), followed by the Ankara bombings, Turkey has taken important steps. In particular security measures have been tightened in order to prevent terrorists entering Turkey from Syria. Border security has been boosted. Electronic control systems have been introduced. And also Syrians who enter Turkey from third countries need visas.
"This attack happened just before the US Vice President is due to visit. I guess Turkey will step up diplomatic efforts and ask for help from other countries in the fight against terrorism."