Vital aid arrives in the besieged Syrian town of Madaya
Comments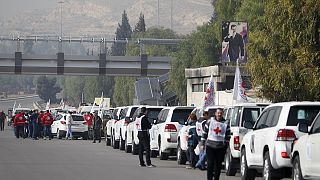 Vital aid has arrived at the besieged Syrian town of Madaya. A convoy with enough basic food to last 40,000 people a month is one of three which left Damascus after an agreement between the warring sides.
The deal to let the trucks into the rebel-held town was dependent on convoys reaching the government controlled towns of Foah and Kefraya.
People have been trapped in the city for six months. The situation has been described as "quite horrific" by an aid agency which told one media outlet more than 250 people were suffering malnutrition. The United Nations said there are credible reports of people dying of starvation.
The 44 lorries had left Damascus on Monday morning carrying basic food items medicines and surgical supplies. Twenty-one lorries were on route for Foah and Kefraya.
The aid arrived as France's Foreign Minister Laurent Fabius called on Syria and Russia to put an end to suffering in the besieged town. Russia denies targeting civilians. Peace talks are scheduled to start in two weeks.