UN war crimes investigate malnutrition claims in Madaya
Comments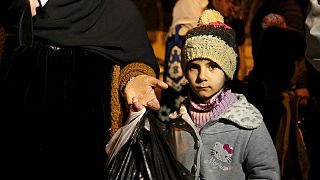 UN war crimes investigators have begun an inquiry into claims residents of a besieged Syrian town have been starved in violation of international law.
An aid convoy brought the first food and medical relief for three months to the western town of Madaya where 40,000 people are trapped by government forces.
Some UN officials have described seeing several malnourished people, particularly children.
Pawel Krzysiek, International Red Cross spokesperson: "We have also seen in the medical structure, several cases of malnutrition, but also a lot of people who are simply very, very sick because they don't have appropriate health care, they don't have medicines, they have to stay in conditions that are not really appropriate for them to be healed."
The World Health Organisation says it has asked the Syrian government to allow it to send mobile clinics and medical teams to Madaya to assess the extent of malnutrition and evacuate the worst cases.