Spain's Princess Cristina appears in court on tax fraud charges
Comments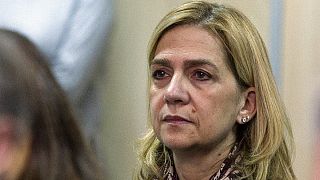 Spain's Princess Cristina has appeared in court with her husband in Majorca on charges of tax fraud.
The 50-year-old sister of King Felipe VI is the first member of the country's royal family to be put on trial.
It follows a long investigation into her husband's business affairs. Prosecutors say Iñaki Urdangarin's Noos Foundation was used to embezzle some six million euros in public funds.
The princess sat in the back row of the makeshift courtroom as the charges were read out. Her husband sat separately from her in line with court rules.
The couple and more than a dozen other defendants all deny the charges.
The trial is a big embarrassment to the Spanish royal family. Details of the investigation came during the economic crisis as the country struggled with record unemployment and austerity.
Urdangarin, a former Olympic handball player, is accused of using what was supposed to be a non-profit body to channel money from inflated contracts with regional governments into private accounts via tax havens.
Princess Cristina is accused of being an accomplice to tax fraud.
Her defence says she knew nothing of the alleged embezzlement, citing prosecutors who retained only tax fraud among the charges.
The princess remains sixth in line to the throne despite being stripped of the title of the Duchess of Palma.